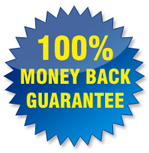 The Best Guarantee
In The Business!
With this unprecedented 100% of your money back guarantee, I've completely removed your risk.
I am so confident that you'll pass your NREMT Paramedic exam after using our Audio Study Guide that I will pay you 100% of your money back within 60 days of your purchase if you don't. That's the best guarantee in the business.
I can confidently make this guarantee by our history of success.